CSR ACTIVITIES
CSR: EJIP invites environmental activists of South Cikarang for Composter Training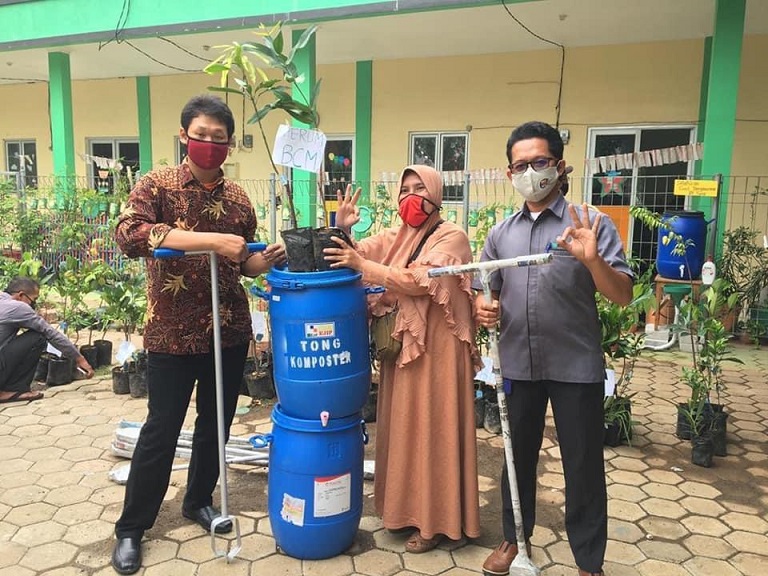 27 October 2020
(27/10) EJIP and the Headmaster of the Midori School, Mrs. Novianti, invited environmental activists in the Cikarang Selatan area to take part in waste utilization training at Midori Private School, Cikarang Selatan. PT. EAST JAKARTA INDUSTRIAL PARK (EJIP) provided assistance of 10 composter barrels and 10 biopore drills. This composter program is a Corporate Social Responsibility (CSR) program that cares for the environment of PT. EAST JAKARTA INDUSTRIAL PARK (EJIP) and it is the first program / pilot project. This activity was attended by representatives of the Head of the RT / RW in the Cikarang area who do have environmental activist backgrounds in their respective housing estates.
The participants very enthusiastic when dr. Feranida provides materials, as well as the practice of processing used cooking oil (oil is no longer suitable for use) to be used as laundry soap. First, used cooking oil must be purified by soaking it with banana peels for 6-12 hours. In practice, it is advisable to use gloves and glasses. After that, prepare the lye (NaOH), essential oil (optional), the Air Conditioner (AC) dripping water. Use aluminum tools and these are only for use in making used cooking oil soap. The process until it becomes soap is 3-4 weeks.
After practicing used cooking oil, the participants practice making liquid fertilizer and compost. Everything is taught in an easy process and can be done at home. Mr. Edi as the speaker gave an explanation of how to make MOL (liquid fertilizer). After having liquid fertilizer, participants can make compost.
Apart from distributing composter vats and biopore drills, EJIP also provided 100 fruit plant seeds. Mr. Saidi, chief of CSR section of PT. EJIP symbolically gave tree seedlings, a biopore drill and composter barrels to the Head of the Bumi Cikarang Makmur Housing Complex.
It is hoped that this composter training program can help in reducing waste with 3R (Reuse, Reduce, Recycle) and take part in building added value from waste, as well as in creating food self-sufficient communities and community empowerment in the environmental sector.
COMMUNITY DEVELOPMENT SUPPORT