CSR ACTIVITIES
CSR : EJIP Distribute 20 Ied Adha Qurban 1441H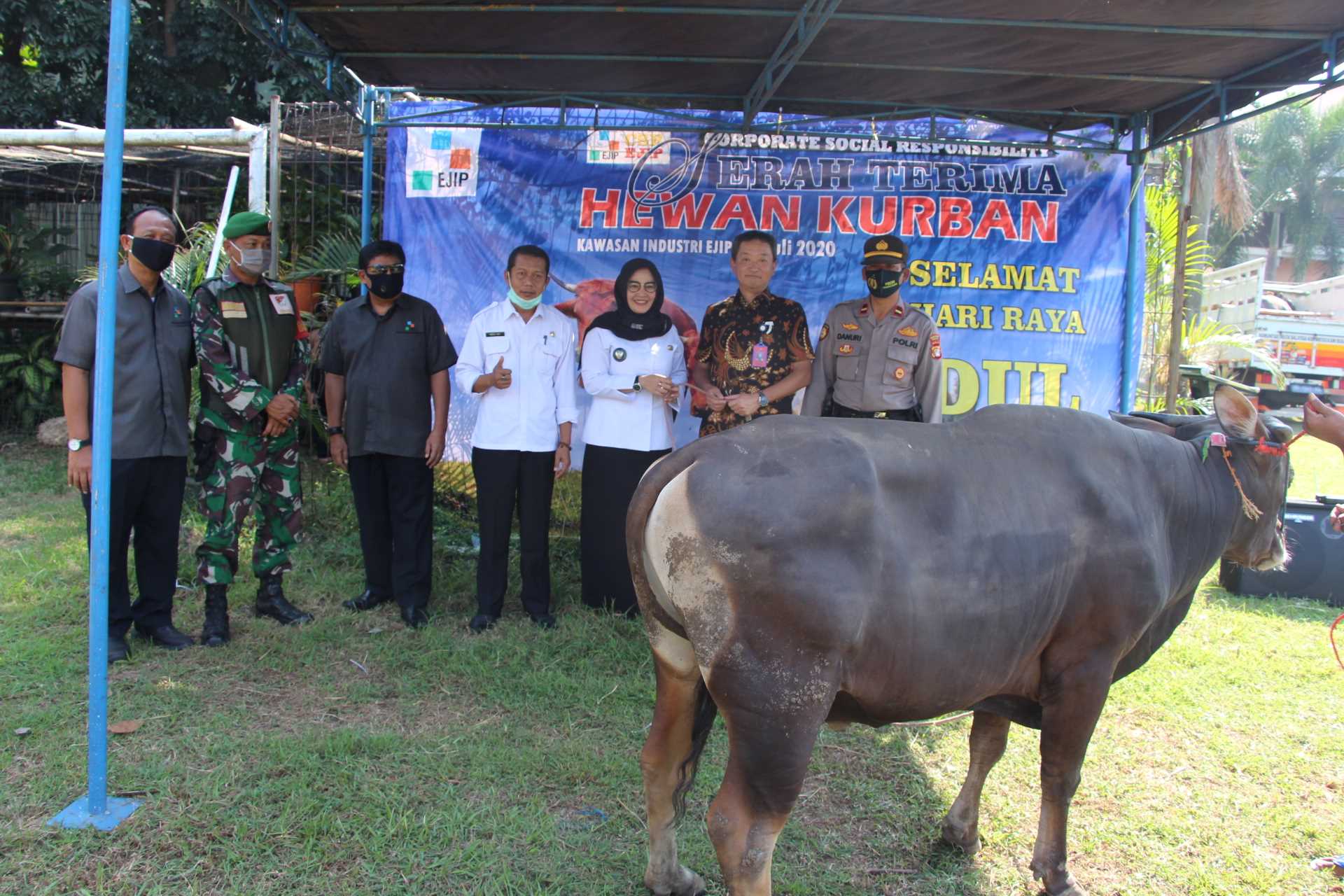 29 July 2020
In the pandemic of Covid-19, PT EJIP still distribute Qurban donations to the Sukaresmi's community, on Eid al-Adha, as many as 6 cows and 14 goats.
The ceremony took place on Wednesday (29/07/2020) morning, near EJIP office , Sukaresmi Village, South Cikarang, Bekasi regency. The event was attended by Muspida, head of Sukaresmi village, head of Welfare of Bekasi Goverment, and the board of Masjid and Musholla in the area of EJIP.
During the event it was reminded to follow the Covid-19 protocol, such as wearing mask, maintaining the physical distance, and using handsanitizer.
Hideyuki Terajima, President Director of PT. East Jakarta Industrial Park, said that EJIP still Distribute the Qurbani Meat as part of their annual Corporate Social Responsibility and for following Islamic teachings.
"The COVID-19 pandemic, we committed to distribute the qurbani, its concept has not changed, the volume and also the weight of the qurbanis still same as the previous years), I wish you a Happy Eid al-Adha 1441 H, and  to rejoice with the family and neighbors."
Suryanto (Manager S&O Dept, PT EJIP) added explanation,  "In the mids of all this happened, (Covid-19), Alhamdulillah we can still distribute cows and goats to Qurbani eid'l Adha. This has been  routine activity every year since2006 until present".
Note of the Mosque/Musholla that receive Qurban from EJIP isas follows : Al Muttaqin, Al Istiqomah, Nurul Mustofa, Matlaul Anwar, Nurul Iman, Miftahul Jannah, Nurjannah, Al Ikhlas, Arrohmatur Abror, Al Maemun, Al Istiqomah EJIP. And several qurban for Yayasan Pertiwi, Pemda Kab. Bekasi, Kecamatan Ciakrang Selatan, Desa Sukaresmi, Polsek Cikarang Selatan, Polresta Bekasi dan Kodim.
COMMUNITY DEVELOPMENT SUPPORT