CSR ACTIVITIES
Pandemic Awareness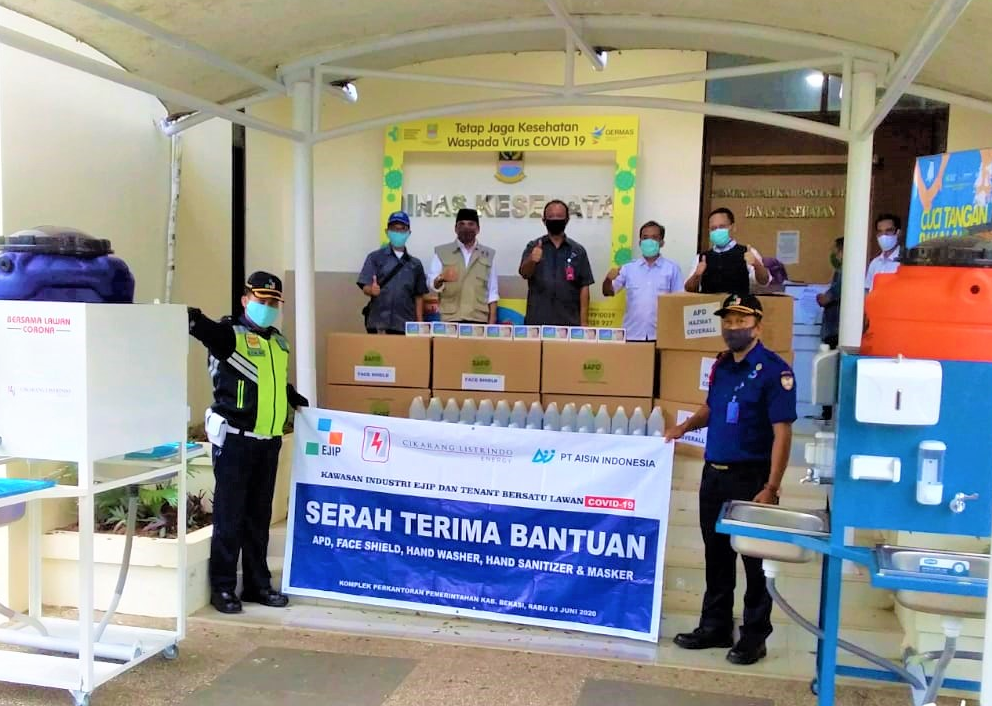 03 June 2020
Circular Letter from Regent of Bekasi No. 440/1482/Dinkes dated March 20, 2020, related with the need of medical equipment such as Hazmat suits, Hand sanitizer, medical mask for healthcare workers, doctors, and nurses to protect them stay healthy and safe during handling of Covid-19;
Therefore EJIP with tenants colaboratd to lend a hand during this outbreak by contribute to Bekasi Regency cq. Health Division. Tenants confirmed to join are PT. Cikarang Listrindo, PT. Aisin Indonesia, and PT EJIP. Donation items contain Hazmat suits 565 sets, Portable Hand wash basin 4 units, Hand sanitizer liquide 35 jerry-can, face shield 400pcs, medical mask 12box.
On June 3, 2020, the handover conducted at Health Division. The equipment  to donate are portable hand wash basin, Hazmat clothes, face shield, surgical mask and liquid hand sanitizer.
In this ocasion, Mr. Dr. Alamsyah. Secretary of Health Division of Bekasi Regency who Task Force covid19 Bekasi regency. received the donation. The Donation, as requested will be delivered to 2 Public health center (PUSKESMAS) under Bekasi Regency, Unit Cibatu, Sukadami, and for distribution stock of Heath Divsion Bekasi Regency. 
Covid-19
EJIP Support Bekasi Police to handling Covid-19
24 June 2020
In the framework of 74th of Bhayangkara's anniversary, Bekasi Police invited business players in the program to share daily essential goods to the people who has been impacted by the Covid-19.