CSR ACTIVITIES
[CSR-Infrastructure] Lombok Earthquake Caring : Recontruction House at Gumantar's Village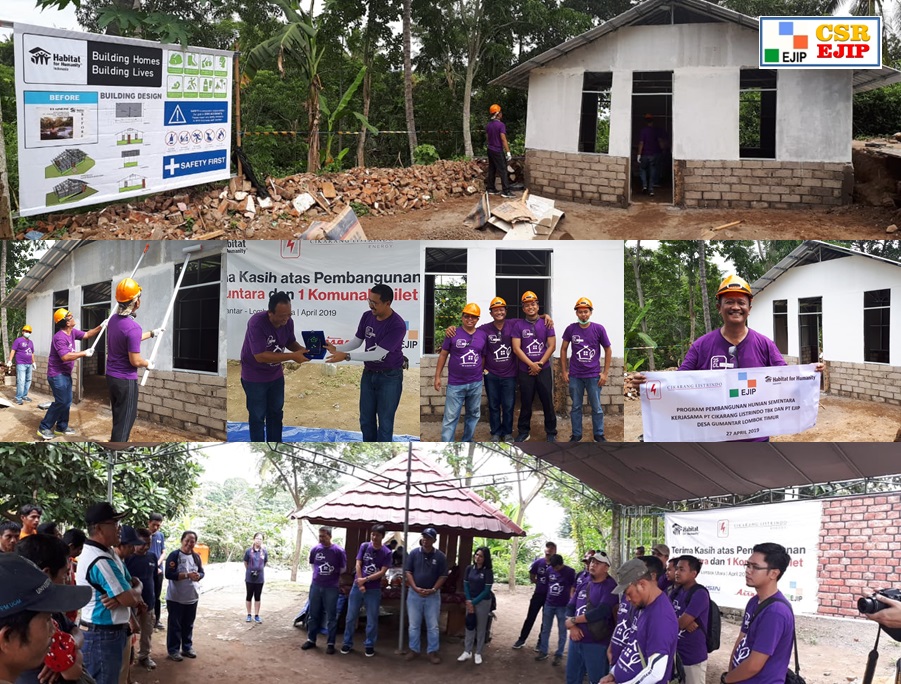 26 April 2019
PT. East Jakarta Industrial Park (PT. EJIP) and PT. Cikarang Listrindo cooperate with Organization Habitat for Humanity, implementing CSR activity at Gumantar- North Lombok on April 26-28, 2019. This development to support the rehabilitation and reconstruction process of a large series of earthquake that inflicted considerable physical damage and resulted in thousands of residents losing shelter.

The location of Gumantar Village is around 2 hour from Mataram (City of Lombok). Around 300 unit housing  was broken in Gumantar Villages after earthquake. Total around 81,000 housing was broken in all North Lombok. For the time being  total 30 units temporary housing and 1 unit Communal Toilet build in Gumantar Villages. On April 27,2019 we construct 5 (five) unit temporary housing for the 1st period. The volunteer was devided to 5 group for construction process of 5 unit housing.
Habitat for Humanity is one of the worldwide organization which operation  in 70 countries with specialist in housing reconstruction and sanitation facility (clean water & toilet). The Organization,  Habitat of Humanity acting as the front liner to created communication with Gumantar Villages Leader for getting community data and number of broken housing. The listed priority to construct the housing based on recommendation from community group  and village leader to minimize some conflict or jealousy among community.
The volunteer should occupied with safety standard during the construction process. To created sense of belonging, the  community as the owner of temporary housing will be involved in this construction until finish  together with Habitat staff.
The community sent good appreciation & respect to volunteer/Company  in their testimony,because they already 7 month they live in their parent/family in traditional home. It is not suitable due to their living together with around 12-16 persons in one home. They very happy to live in temporary house, because  even Government have policy to build permanent housing but it still take long time.
PT.Cikarang Listrindo send respect & warm regard to EJIP BOD and they hope through this activity both EJIP and Cikarang Listrindo can encouraged others tenants to follow this program.
INFRASTRUCTURE IMPROVEMENT SUPPORT